Farm Products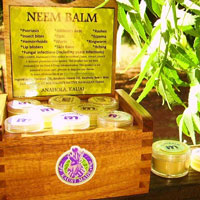 NEEM BALM
Handmade at Mahinani's Native Hawaiian Neem Tree Farm, Anahola Kauai Neem oil is made from the oil pressed from the seed the Neem tree. The seed is about the size of a coffee bean. Neem Oil has been used for generations as a natural skin remedy. It is highly concentrated and has anti-microbial active ingredients that can be used directly on cuts, scrapes or other skin conditions.
Much research has been done regarding the benefits of Neem. One of Neem's stronger advantages is its effect upon the skin in general. It has been most helpful in treating a variety of skin problems and diseases including psoriasis, eczema and other persistent conditions. Neem oil moisturizes and protects the skin while healing the lesions, scaling and irritations. Coal tar products are messy and smelly and cortisone can thin the skin when used repeatedly. Neem has neither side effect and can be used for extended periods of time.
We combine our Anahola Neem oil with Coconut Oil and our honeybee's wax to create a wonderful balm that is easy to apply and convienient to carry & have on hand at all times.
These statements have not been evaluated by the Food & Drug Administration. This product is not intended to treat, cure, prevent or diagnose any disease.
For more information on the benefits of Neem see http://neemfoundation.org
5 gram Neem Balm ~ $4.49 each + shipping
20 gram Neem Balm ~ $15.30 each + shipping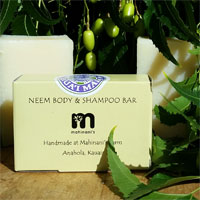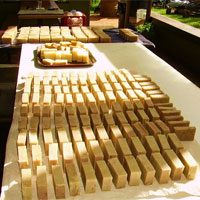 HAND MADE NEEM SOAP
Handmade at our family farm in Anahola, Kauai with pure and natural ingredients. Palm Oil (producing a hard, long lasting bar of soap), Coconut Oil (producing rich fluffy bubbles) & Olive Oil (gentle moisturizer).The combination of these 3 oils results in a hard, conditioning bar of soap with rich, creamy lather.
To these 3 oils we add our honey bees wax, neem oil and peppermint oil. We make our neem soap using the cold-process method. The cold-process method is a traditional technique that ensures that the glycerin, a valuable by-product of the saponification process remains in the finished soap. This is often extracted in commercial soap making. In fact, many commercial soaps are not soap at all but a combination of detergents, emulsifiers, surfactants and chemical preservatives.
NEEM BODY & SHAMPOO BAR: made with pure Anahola Neem Oil
3.5 oz. Bars ~ $5.49 each + shipping
MAHINANI'S NEEM TEA (Coming Soon!)
Grown & handpicked at Mahinani's Neem Tree Farm in Anahola, Kauai.
BENEFITS OF NEEM TEA: The herb Neem has been used in ayurvedic medicine for thousands of years to treat a wide range of ailments due to its extensive healing properties; there are 150 active substances in Neem. It is non-toxic to humans. TO BE SURE, THE TASTE OF NEEM TEA IS AN AQUIRED ONE, BUT FOR MANY, THE ANTIBACTERIAL, ANTI-FUNGAL, ANTI-PARASITIC, ANTI-PROTOZOAN AND ANTIVIRAL PROPERTIES MAKE THE ADJUSTMENT WORTHWHILE.
ANTIBACTERIAL USES: Neem is used to treat bad breath and gum disease and to prevent cavities. It is used as an ingredient in a variety of oral care products sold worldwide. In India, people chew on neem twigs. According to a study published in the Journal of Ethnopharmacology in 2004, drinking neem tea and brushing your teeth with neem gel has been shown to reduce the prevalence of bacterial growth in the mouth by up to 50 %.
ANTIFUNGAL USES: In the treatment of fungal infections, neem is most effective when used both internally as a tea and externally as a cream. Together, these two forms of neem kill the fungus that causes yeast infections, jock itch, thrush and ringworm.
ANTI-PARASTIC USES: Neem contains hormones that disrupt the feeding and reproductive patterns of body and head lice. Instead of drinking neem tea, to combat parasites it is more effective to bathe in it. It will soothe the skin by promoting the healing of open wounds and acting as an antiseptic while killing the parasites.
ANTI-PROTOZOAN USES: Neem tea is an effective tonic for both indigestion and constipation because of the content of tict rasa. This also makes neem an effective de-worming compound.
ANTIVIRAL USES: Neem is used as a blood purifier due to its ability to remove toxins from the blood and thereby increase liver function.
These statements have not been evaluated by the Food & Drug Administration. This product is not intended to treat, cure, prevent or diagnose any disease.
100% Neem Tea ~ 1 oz. bag